<![if !vml]><![endif]>

Dr. Juri Jatskevich

PROFESSOR OF ELECTRICAL AND COMPUTER ENGINEERING

Ph.D., P.Eng., IEEE Fellow

Electrical and Computer Engineering

Kaiser Building 3057, 2332 Main Mall

Vancouver, BC CANADA  V6T 1Z4

Tel: 1.604.827.5217
Fax: 1.604.822.5949
E-mail: jurij@ece.ubc.ca
 
Education
Ph.D. Purdue University, ECE, West Lafayette, IN, USA, 1999
M.S.E.E. Purdue University, ECE, West Lafayette, IN, USA, 1997
B.S.E.E. Ukrainian National Agricultural University (UNAU), Kiev, Ukraine, 1994
Power and energy systems, power electronic systems, electrical machines and drives, controls, electromagnetic transients, computer modeling and simulation, distributed and parallel simulation.
Electrical Power and Energy Systems (EPES) Research Group
Institute for Computing, Information & Cognitive Systems (ICICS)
Services
Editor-In-Chief, IEEE Transactions on Energy Conversion
Editor, IEEE Power Engineering Letters
Associate Editor, IEEE Transactions on Power Electronics (2008 – 2013)
Chair, IEEE Task Force on Dynamic Average Modeling
Chair, IEEE Task Force on Modeling and Analysis of Rotating-Machine Based DERs (2011 – 2013)
Chair, IEEE CAS Power Systems and Power Electronic Circuits Committee (2009-2010)
Teaching
Undergraduate
EECE 365: Applied Electronics and Electromechanics
EECE 370: Electrical Machines and Power Transmission
EECE 373: Electromechanical Energy Conversion and Transmission
Coordinator
Electrical Energy Systems Option
Electromechanical Devices Laboratory
Graduate
EECE 549: Dynamic Modeling of Electric Machines and Controls
EECE 550: Topics in Power Electronics
CEEN 502: Alternative Energy Technologies (for M.Eng. in Clean Energy)
SCHOLARSHIPS OPPORTUNITY:
A limited support (Research Assistantships) is available to outstanding students who have strong academic background and experience in smart energy grids, power systems, power electronics and controls, electrical machines and drives, modeling and simulation of electromagnetic transients, and related areas of research.
Prospective students are also encouraged to compete for other scholarships opportunities that are available through UGF and NSERC. Additional information regarding awards and scholarships can be found through the Graduate Award General Information.
Interested students should contact Graduate Admissions and follow up with the regular application procedure and deadlines.
Graduate Students:
| | | | | |
| --- | --- | --- | --- | --- |
| Name | Program | Start | Finish | Area |
| Ali Davoudi | Master | Sep. 2003 | Feb. 2005 | DC-DC Converters |
| Faisal A. Al-Dubaikel | Master | Sep. 2003 | May 2005 | Management of Assets |
| Wang, Liwei | Master | Sep. 2004 | Dec. 2005 | Modeling of electrical machines |
| Wang, Liwei | Doctoral | Jan. 2006 | Feb. 2010 | Modeling of electrical machines for EMTP |
| Hee-Sang Ko* | Doctoral | Sep. 2004 | Dec. 2006 | Wind energy systems |
| Tsai Te-Chin | Master | Sep. 2004 | Dec. 2005 | Power quality and harmonics |
| Chou Chun Wei | Master | Sep. 2004 | May 2006 | Rectifiers with PFC |
| Samoylenko, Nikolay | Master | Sep. 2005 | Aug. 2007 | Control of brushless motors |
| Han, Qiang | Master | Sep. 2005 | July 2007 | Brushless motor drives |
| Siva Singupuram | Master | Jan. 2006 | July 2007 | Simulation with PC cluster |
| Nathan Ozog | Master | May 2006 | Aug. 2008 | Modeling electric infrastructures |
| Shen Xiaoben | Master | Sep. 2006 | May 2008 | Distribution Systems |
| Vargas Rios, Maximino | Master | Sep. 2006 | May 2009 | Voltage stability, load modeling |
| Sina Chini Foroosh | Doctoral | Sep. 2007 | Mar. 2012 | AC-DC Converters modeling |
| Pooya Alaeinovin | Master | Sep. 2007 | Sep. 2009 | Brushless motor drives |
| Abdullah M. Alsubaie | Master | Sep. 2008 | May 2010 | Power systems, motor drives |
| Rolf Hachenberger | Visiting | May 2008 | Sep. 2008 | motor drives |
| Willa Wen | Master | Sep. 2009 | Aug. 2010 | Load forecasting & modeling |
| Charuta Roge | Master | Sep. 2008 | May 2010 | Power systems modeling |
| Jaishankar Iyer | Master | Sep. 2009 | Dec. 2011 | AC motor drives |
| Kamran Tabarraee | Master | Sep. 2009 | Jun. 2011 | Brushless motor drives |
| Mehmet Sucu | Master | Sep. 2009 | Aug. 2011 | DC-DC Converters |
| Mehrdad Chapariha | Doctoral | Sep. 2009 | | AC machines, transients |
| Hamid Atighechi | Doctoral | Sep. 2009 | | HVDC systems modeling |
| Donna Dupius | Engineer | Sep. 2009 | May 2010 | Brushless motor drives |
| Abdesh Shafiel Khan | Post-Doctoral | Jan. 2010 | July 2010 | Brushless motor drives |
| Milad Gougani | Master | Jan. 2010 | Apr. 2012 | Automotive BLDC motor drives |
| Soroush Amini | Master | Sep. 2011 | | DC-DC Converters |
| Therrien, Francis | Master | Sep. 2011 | | AC machines, distribution syst. |
| Beskaravayny, Alexey | Master | Sep. 2011 | | Regenerative AC Drives |
| Alebrahim, Ebrahim | Master | Sep. 2011 | | Distribution systems |
| Qiang Han | Doctoral | Sep. 2011 | | Transient stability tools |
| Arash Alimardani | Doctoral | Sep. 2011 | | Smart meters data opt. |
| Zadehkhost, Sajjad (Pooya) | Doctoral | Sep. 2011 | | Transient stability tools, PMUs |
| Mancheol Shin | Post-Doctoral | May 2012 | | Distribution Syst. Automation |
| Jose Cano | Visitng Professor | Jul. 2012 | | Active rectifiers, control, transients |
| | |
| --- | --- |
| <![if !vml]><![endif]> | <![if !vml]><![endif]> |
<![if !vml]>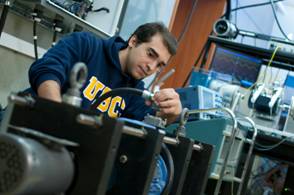 <![endif]><![if !vml]>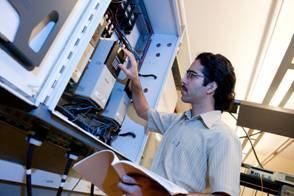 <![endif]>
<![if !vml]>
<![endif]><![if !vml]>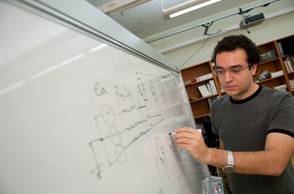 <![endif]>